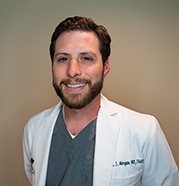 Aaron J Morgan, M.D.
Aaron J. Morgan, MD is a Board Certified Dermatologist, Diplomat of the American Academy of Dermatology, Fellow of the American Society of Mohs Surgery and member of the American Society for Dermatologic Surgery. Dr. Morgan is the Chief of the Department of Dermatology at Jersey Shore University Medical Center. He has been named a Jersey Choice Top Doctor in New Jersey Monthly's annual survey of New Jersey physicians on multiple occasions.
He attended Rutgers College and went on to complete the accelerated BA/MD program with New Jersey Medical School. Dr. Morgan then completed his internship at Jersey Shore University Medical Center, Neptune, NJ. During his residency training in Dermatology, at University Hospital in Newark, NJ and at the East Orange VA Hospital, he served as chief resident. Dr. Morgan has also done research in genetics and biochemistry, as well as publishing in various journals. His areas of interest include general and pediatric dermatology, skin cancer prevention and treatment, Mohs Micrographic Surgery and cosmetic skin procedures. Most importantly, Dr. Morgan enjoys and takes pride in his work.
Publications
Patel L, Maghari A, Schwartz RA, Kapila R, Morgan AJ, Lambert WC: Myeloid leukemia cutis in the setting of the myelodysplastic syndrome: a critcal dermatologic diagnosis. Int J Dermatol. 2012 Apr;51(4):383-8. PMID: 22435424
Morgan AJ, Schwartz RA. Diabetic Dermopathy; Pathognomonic for Diabetes Mellitus. Abstract presented at American Academy of Dermatology Annual Meeting. February 5, 2011New Orleans, LA
Mecoli CA, Morgan AJ, Schwartz RA. Symptomatic Dermatographism: current concepts in clinical practice. Cutis. 2011 May;87(5):221-5. PMID 21699121
Morgan AJ, Schwartz RA. Cutaneous Polyarteritis Nodosa: a Comprehensive Review. International Journal of Dermatology. 2010 Jul;49(7): 750-6. PMID 20618492
Morgan AJ, Cohen PJ. Cryotherapy. eMedicine from WebMD. Updated April 07, 2010. Available at: http://emedicine.medscape.com/article/1125851-overview.
Schwartz RA, Morgan AJ. Diabetic Skin Ulcer. In: Ebell MH, Ferenchick G, Smith M, Barry H, Slawson D, Shaughnessy A, Forsch R, Li S, Wilkes M, Usatine R, eds. Essential Evidence. John Wiley & Sons: Hoboken, NJ, 2009.
Morgan AJ, Steen CJ, Schwartz RA, Janniger CK. Erythema toxicum neonatorum revisited. Cutis. 2009 Jan;83(1):13-6. PMID: 19271565
Morgan AJ, Schwartz RA. Diabetic Dermopathy; A subtle sign with grave implications. Journal of the American Academy of Dermatology. 2008;58:447-51 PMID: 18155320
Honors and Awards
2008 Intern of the Year Award- Jersey Shore University Medical Center – June 2009
Merck Manual Award for academic performance presented at NJMS Annual Awards Ceremony, May 1, 2008
22nd Annual Marcus T. Block Memorial Award for Outstanding Student in Academic- Research
Dermatology at NJMS granted by Sigma Xi on May 12, 2008
Alpha Omega Alpha Honor Medical Society, Junior Member – Inducted September 2006
Sigma Xi Scientific Research Society- elected associate member by the Newark Chapter 2007
Phi Beta Kappa, Honors Fraternity at Rutgers College – May 2004- May 2005
Rutgers College Honors Program
National Society of Collegiate Scholars – 2001- 2004
Golden Key International Honour Society – 2001-2004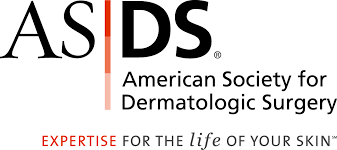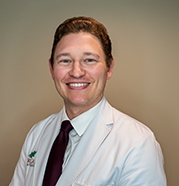 Marc Zachary Handler, M.D.
Zac Handler, M.D. is a board-certified academic dermatologist and acclaimed lecturer. He is a member of Alpha Omega Alpha Honor Medical Society. Dr. Handler is also an assistant clinical professor in dermatology at Rutgers University New Jersey Medical School. He served as a Fellow in the United States House of Representatives, and crafted cost-neutral legislation to combat HIV infection. He has received the Congressional Recognition Award three times, from bipartisan House members for his work on health care policy, and was named a Nebraska Admiral, by the Governor of the State of Nebraska, in recognition of service to the community. He has experience with medical news production, having worked with Sanjay Gupta, M.D. at CNN's medical unit, assisting with medical programming. Additionally, he has been a medical contributor for the Discovery Health program, "Dr. G: Medical Examiner".
Dr. Handler is a recipient of the prestigious Tatotsu Imaeda M.D. Ph.D. Academic Scholar Award for his extensive academic work, which includes greater than 30 peer-reviewed publications and 5 book chapters. Dr. Handler is the only person to be first author on back-to-back cover articles in the Journal of the American Academy of Dermatology, the leading American journal in the specialty of dermatology.
Focused on improving health care access both locally and abroad, Dr. Handler has provided volunteer medical care with Project MediShare in earthquake stricken Port-au-Prince, Haiti. His experience in Haiti led to an invitation to assist the House Foreign Affairs Committee, in Washington, D.C., on USAID expenditures. He has since been a volunteer physician at the HIV hospital in Accra, Ghana and a volunteer Emergency Medical Technician (EMT) in Hoboken, New Jersey. Dr. Handler has been an invited guest lecturer around the globe, including Montenegro, New York, Miami, Kuwait, Iran, and Jordan. Dr. Handler holds a Bachelor of Science from the University of California, San Diego, and received his Doctor of Medicine from the University of Nebraska. Dr. Handler completed a research fellowship in pediatric dermatology at the University of Miami with department chairman, Dr. Lawrence Schachner, author of Pediatric Dermatology. He completed his residency in dermatology at Rutgers University with Dr. Robert A. Schwartz, providing needed care for the underserved patients of Newark, New Jersey and military veterans at the East Orange Veterans hospital. He was selected to serve as the program's Chief Resident his senior year. He completed a Mohs micrographic surgery and Procedural Dermatology fellowship at Skin Laser & Surgery Specialists of NY and NJ, under the direction of Dr. David J. Goldberg.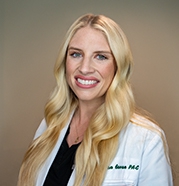 Meaghan Gavan, PA-C
Meaghan Gavan PA-C is a Physician Assistant board certified by the National Commission on Certification of Physician Assistants. She received her Bachelor's degree in Biological Sciences from the University of Delaware and went on to earn her Master's Degree in Physician Assistant Studies from Seton Hall University in 2013. During her last year of PA school, she served as a graduate assistant for the first and second year PA students. She assisted in research and provided tutoring to the students as they navigated the didactic and clinical training. Meaghan was inducted into Seton Hall's chapter of Alpha Eta Society, the national scholastic honor society for allied health professionals. She was also inducted into the PI Alpha National Honor Society for Physician Assistants which recognizes one's academic achievements, leadership, research and community/professional service. She was presented with the Research reward for the Seton Hall Physician Assistant program in 2013. Prior to joining Morgan Dermatology in 2016, she spent several years working in cardiothoracic and vascular surgery. She has comprehensive training and specializes in both medical and cosmetic dermatology. Her interests consist of skin cancer screenings and treatment, acne, psoriasis, skin and hair rejuvenation as well as cosmetic procedures including neurotoxins, fillers, and lasers. She is an active member of the Society of Dermatology Physician Assistants (SDPA) and American Academy of Physician Assistants (AAPA), and American Academy of Dermatology (AAD).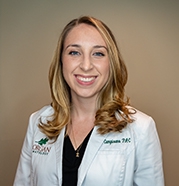 Lauren Campisano, PA-C
Lauren Campisano, MS, PA-C is a board-certified Physician Assistant. She received her Bachelor of Sciences in Health and Exercise Science from The College of New Jersey, where she graduated with honors before pursuing a master's degree in Physician Assistant studies from Rutgers University. During her time at Rutgers, Lauren was an academic and service scholarship recipient and an active volunteer at the FOCUS medical clinic in Newark, NJ, where uninsured and at-risk patients could receive free medical care. Upon graduation, she gained valuable experience working in Emergency Medicine prior to joining Morgan Dermatology, where she was personally and extensively trained in both medical and cosmetic dermatology by Dr Morgan. Lauren completed rigorous coursework to become a Diplomate Fellow of the Society of Dermatology Physician Assistants (SDPA) and is a Melanoma Research Foundation Certified Melanoma Educator. She is an active member of the SDPA, American Academy of Physician Assistants (AAPA), and American Academy of Dermatology (AAD). Lauren strives to provide her patients with the type of care they deserve. Her areas of interests include both adult and pediatric medical dermatology with particular interest in skin cancer prevention and treatment.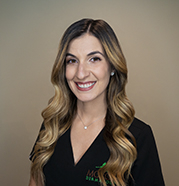 Alexandra Fazio Guinta - Aesthetician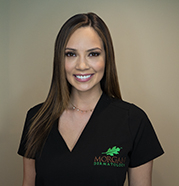 Jillian Garcia - Aesthetician